The 3rd Annual "Shelter for Shelter"
The 3rd Annual "Shelter for Shelter" presented by
Richmond Realty Group RE/MAX The Woodlands & Spring
raised $50,000 to benefit YES to YOUTH – a total of $150,000 over three years.
The Woodlands, TX – May 30, 2019 – It was all about the kids in need as the 3rd annual "Shelter for Shelter" event presented by Richmond Realty Group RE/MAX The Woodlands & Spring successfully raised $50,00 to benefit YES to YOUTH's homeless shelter, bringing the total raised over the last three years to $150,000.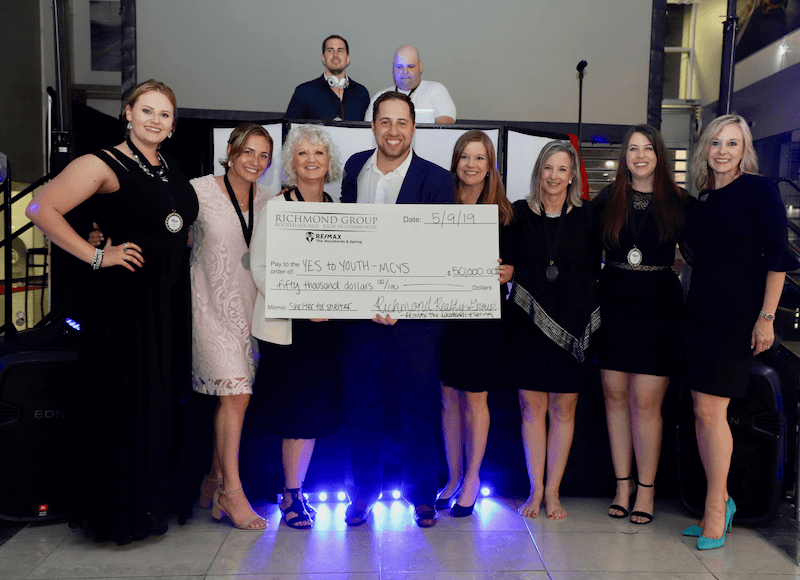 Even the impending thunderstorm couldn't keep folks from attending Shelter for Shelter, which was hosted May 9th at Mercedes-Benz of The Woodlands for the third year in a row.
Over 300 guests began to arrive at 6:30 p.m. and the fun networking among community leaders and local businesses sponsors quickly became buzzing as upbeat tunes played in the background. The generous fine food samplings and spirits flowed with sponsor restaurants serving their favorite light bites – from scrumptious crab cakes and succulent steak to chocolate truffles and a huge flowing chocolate fondue tower.
On the big stage, an informative presentation covered the important services provided by YES to YOUTH.  As the sun went down, the showroom was aglow as Zach Richmond and his team of Marlys Mulkey, Heather Gable, Colleen Stockert, Aleisha Bannenberg at Richmond Realty honored each of the 46 sponsors with a "thank you" medal as they walked across the stage. The vivacious Monette Smith of PR Luxury Media emceed the evening which was punctuated by live entertainment, music and fun dancing.
"Mercedes Benz of The Woodlands has been our partner since the beginning," noted Richmond. "They really care about giving back to the community. They've been such a big partner by providing such an amazing venue for us to raise money for the kids in crisis in Montgomery County. We truly grateful for their support as well as the support we received from all of our generous sponsors and guests."
YES to YOUTH is a non-profit organization (formally called Montgomery County Youth Services) that provides crisis counseling, shelter programs, prevention services and empowerment to young people to strengthen families, and teach the youth that they are worth it, they deserve safety and security, and that they will succeed in life.
Services include individual, group and family mental health counseling; presentations and school counseling in crisis situations; suicide prevention for youth and families; BridgeWay Emergency Youth Shelter (for ages 10-17); street outreach for homeless teens; and Healthy Support Program for pregnant and parenting teens.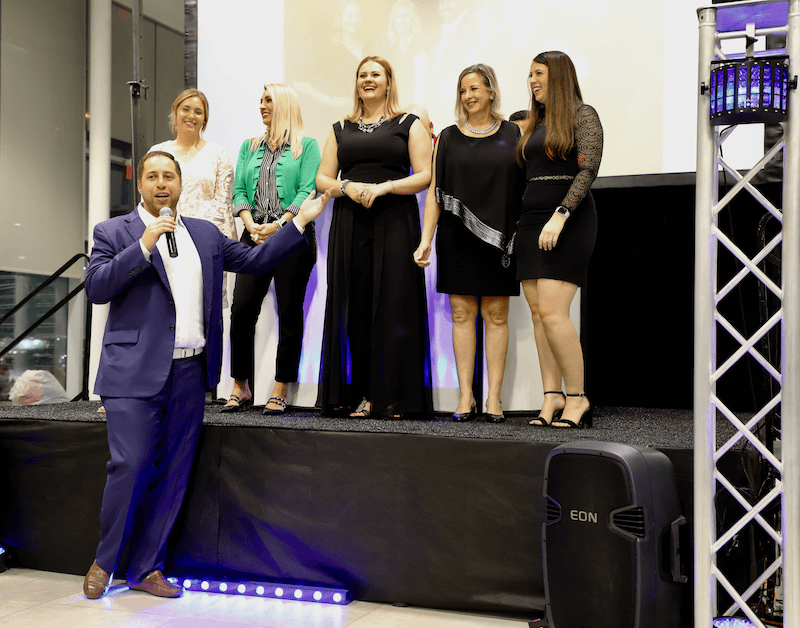 Sponsors included Woodforest by Johnson Development, Wolford Group, Waterway Landing at East Shore, Waste Connections, Veritas Title Partners, US Congressman Kevin and Cathy Brady, Truluck's Seafood Steak & Crab House, Tommy Bahama, Texas Engineered Roofing, Superior Home Renovation and Construction, Stull Inspections, Strike LLC, Starfox Financial, Spirit of Texas Bank, Spinal Care Chiropractic Center, Southern Star Brewing Company, Michael and Vicki Richmond, RE/MAX The Woodlands and Spring, Prime Lending, PR Luxury Media, Paragon Insurance, Nebular Films, Mercedes-Benz of The Woodlands, Liz Grimm Public Relations, Link Local, Kirby's Steakhouse, The J. Beard Real Estate Company, I Promote You – Dawn Candy, Hello Woodlands, Haynie & Company, Guy Facial Plastic Surgery – Dr. Marshall Guy, Fred and Sheryl Greene, Front Runner Consulting Group, Fleming's Prime Steakhouse & Wine Bar, Fielding's Wood Grill, The Everson Family, Endeavor Oil, Dripping Springs Vodka, Walter Cooke – In Memory of Madalyn Cooke, Ryan Gable, Chick-fil-A, Budget Blinds, Berryhill Baja Grill, Baidy Racine, Avenida Brazil, and America's ER.
To learn more about YES to YOUTH – Montgomery County Youth Services visit www.sayyestoyouth.org and visit their Facebook page at https://www.facebook.com/sayyestoyouth/ or call 281.292.6471 from 9 a.m. to 5 p.m. daily. YES to YOUTH also offers a 24/7 Crisis Hotline at 1.888.756.8682.